Competition organizers of the American DanceSport Festival and the Royal Palm DanceSport Championships are excited to announce that the two competitions have merged and joined forces! American DanceSport Festival, a National Qualifying Event (NQE) organized by Lisa Spencer with Executive Director Ronen Zinshtein, holds one of the largest WDSF open-to-the-World Competitions in the United States. This competition traditionally draws top competitors from throughout the country and the world. Royal Palm DanceSport Championships, organized by USA Dance Royal Palm Chapter #6016 for the past 17 years, is another prestigious NQE competition that also holds strong WDSF Open events.
This joining of forces is intended to bring together and multiply the best of these two USA Dance NQE competitions for dancers and spectators.
The first combined competition will be the American DanceSport Festival (ADSF), October 8-10, 2021, at the Westin Fort Lauderdale Beach Resort, Fort Lauderdale, Florida. This will be a USA Dance NQE with multiple WDSF events and USA Dance National Championship events. It will also be a World Games Qualifying Event.
ADSF is one of the premier WDSF competitions in the United States. This competition hosted three WDSF World Championships from 2016 to 2018, plus a World Open in 2019, which brought together competitors from over 44 countries, including Israel, Brazil, and Japan. This year,  ADSF will be a USA Dance NQE and will host USA Dance National Championship Events in the Adult and Under-21 age groups. In addition, the 2021 ADSF will be a Qualifying Event for the World Games being held July 7-17, 2022, in Birmingham, Alabama.
View Videos from a past American DanceSport Festival:
The Royal Palm DanceSport Championships NQE and WDSF Open has a track record of especially strong Senior events, including Standard Championships with quarterfinals and WDSF Open Senior Events with semi-finals. In 2019 and 2020, the competition attracted dancers from 26 different states and six countries, including Austria, Italy, Finland, Canada, and Costa Rica.
"All of us at the Royal Palm Chapter are very excited to support and join forces with the Great ADSF," said Royal Palm Chapter President and Competition Organizer Connie Barnhart Koontz. "My husband Dave and I have attended and have been very impressed with every ADSF Competition since its founding. When we all learned that ADSF would be moving to Fort Lauderdale, part of the area served by our Chapter, our Chapter Board unanimously felt that to support and join forces with this spectacular competition would be an opportunity we could not refuse…To be part of holding such a major competition in 2021 at a luxury beachfront resort hotel like the Westin Fort Lauderdale Beach Resort is a dream."
ADSF organizer Lisa Spencer added, "We are very excited to be working with the Royal Palm Chapter, and grateful for the wonderful support we are receiving from Connie and the Royal Palm team."
"Living in the Boston area, we are delighted to have the support of the local USA Dance Royal Palm Chapter there on the ground in Fort Lauderdale," added, Ronen Zinshtein, Executive Director of ADSF. "Judges and competitors who participated in the Royal Palm NQE over the last two years have informed us that they were impressed with the quality of that competition, and the warmth and hospitality brought to the competition by its team of volunteer organizers."
What this Means for Dancers and Spectators?
We consider this joining of forces to be a "win-win-win" for the competitions, for the competitors, and for USA Dance," said Ronen. Indeed, combining the strengths of these two USA Dance NQEs promises to offer competitors and spectators an energetic and eye-catching world-class event, in a world-famous vacation destination…sunny Fort Lauderdale, Florida.
The venue, the Westin Fort Lauderdale Beach Resort, 321 North Fort Lauderdale Beach Boulevard, Fort Lauderdale, Florida 33304, is only 7.9 miles from the Fort Lauderdale-Hollywood International Airport (FLL), which is served directly by 15 domestic, international, and regional airlines. Average taxi fare (one-way airport to hotel) is approximately $20. The Miami International Airport (MIA), another hub for many domestic and international airlines, is also conveniently located only 30 miles from the hotel.
The competition will take place at the hotel. There will be a separate practice floor, high-quality vendors, and all the conveniences wanted for a USA Dance NQE with WDSF events.
When they are not dancing, competitors can enjoy the hotel's many amenities including three restaurants, a fitness center, a spa, and an outdoor swimming pool. Plus, the venue is only two miles from some hot shopping and dining spots on the fashionable Las Olas Boulevard in Fort Lauderdale, and steps away from beachfront dining and shopping on Fort Lauderdale Beach Boulevard.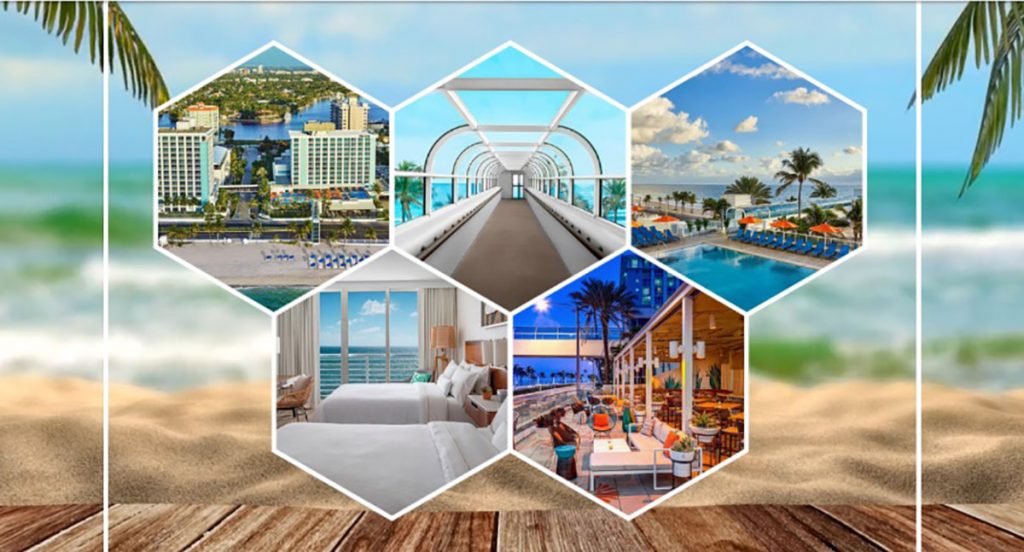 Competitor registration details and all information about the combined October 8-10, 2021 ADSF can be found on the competition's website: www.AmericanDSF.org and its Facebook page.
 Spectator tickets are on sale at: bit.ly/3ynpKMe.
Hotel reservations should be made online now, while rooms last at the competition group rate of $169.00. Click here to book hotel reservations online! or call 1-888-627-7108 and mention the block name: "American DanceSport Festival". For the best view of the beach, book NOW.
 The organizers and all the team of the 2021 American DanceSport Festival await you with a warm welcome at the Westin Fort Lauderdale Beach Resort on October 8-10, 2021.
Like this page? Share it with your friends.