WDSF Open Senior II Standard World Championship
Rotterdam, Netherlands August 29, 2021
Denis Kojinov & Jeanette Chevalier
Arkady Dudko & Lena Bobroska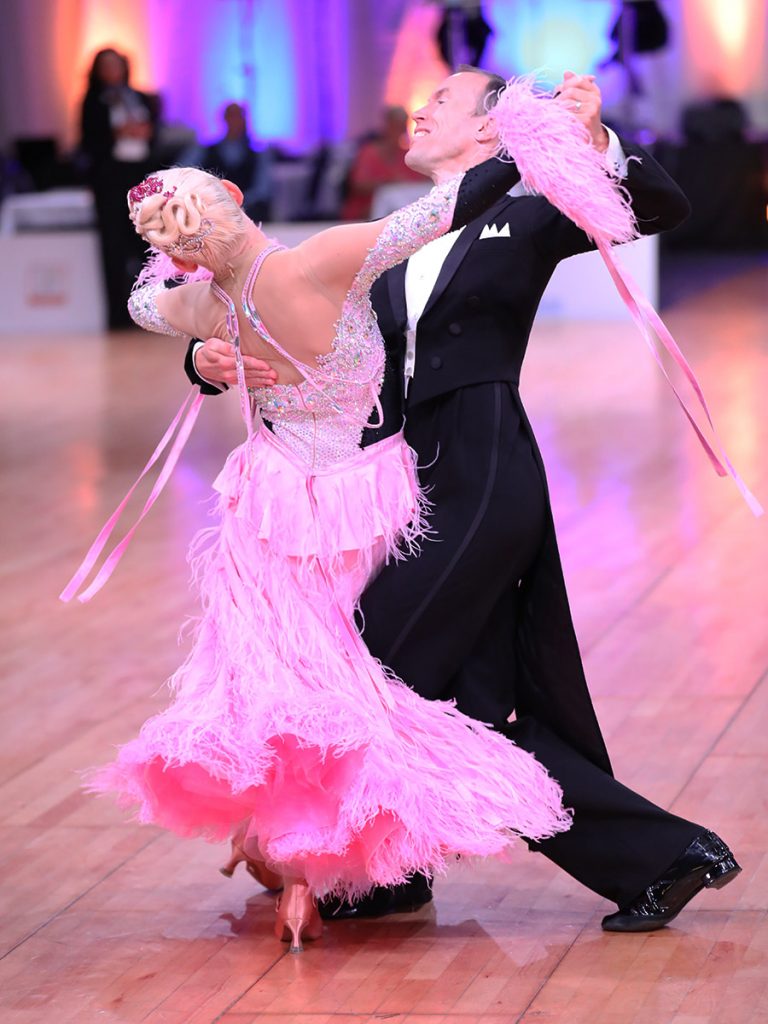 How did this World Championship compare to other international competitions you have attended?
ALAN: This competition was one of the larger Senior II World Championships with 112 couples. In Toronto (2019) we had 79 couples. I wondered if this World Championship would be smaller than before because of COVID-19. I was hoping to get through at least 3 rounds of competition.
The World Championship competitions are different from many of the competitions we dance in the USA just because they are so large. In Rotterdam, the competition required 6 rounds, and it took over 2 hours just to get through the first round because we had to break it up into about 10 groups. The "redance" round gives the couples who weren't initially recalled to the second round another chance to be recalled. This means that everyone gets to dance in at least two rounds (first round and redance round).
Do you think it's important for WDSF World Championships to be held in the USA?
ALAN: I think it is very important to have WDSF World Championships in the United States. A World Championship is a big reason for a high-level couple to travel to a competition. Having World Championship events in the US would bring many couples to US competitions who might otherwise skip traveling to the US. And a World Championship is the type of event that will generate interest from the general public and get people to see DanceSport as an exciting, world-class sport.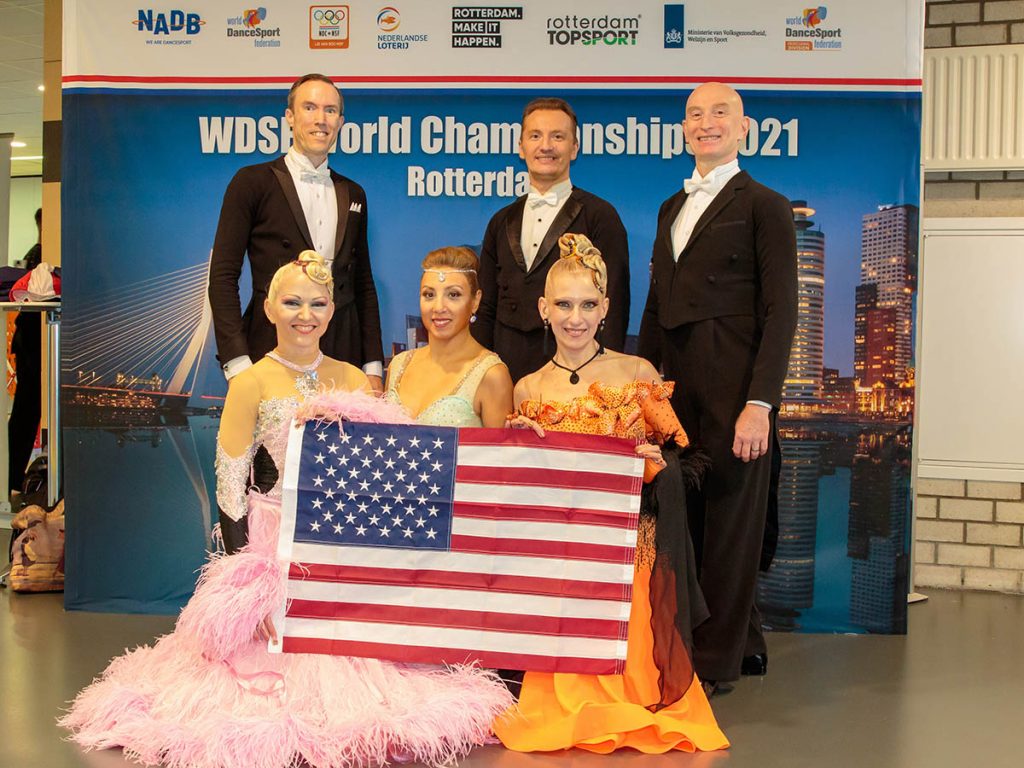 The Senior 2 Standard USA Team
Were there any particular challenges getting to or from this World Championship?
ALAN: The travel for this competition was a little bit of a pain because of COVID.  We had to upload proof of vaccination to our airline's website and fill out additional documents for the Netherlands for the trip to Europe.  Then when it was time to return to the United States, we had to take a COVID-19 test a few days before going to the airport.  We also had to spend time monitoring the COVID rules for the Netherlands to make sure we would be allowed in.
Anything unique or special happen to you on this trip?
ALAN: It was great to attend the World Championship with two other couples from the United States.  Four of us went on a brief sightseeing trip to see the Erasmus Bridge in Rotterdam.
Kelly suffered an eye injury during the WDSF Senior I Standard Open two days before the World Championship. We've been bumped and knocked down before, but this time we had to visit an eye doctor.
How did you prepare for this important event? Was it any different than how you normally prepare for a competition?
ALAN: Preparing for this World Championship was a little harder this time because we were unable to compete very much in the months before the competition. We only danced at one competition, the OKC Dreamcatcher DanceSport Championships, before heading to the Netherlands. We were still able to dance at several rounds practices and take training from our regular coach, so in that respect, we prepared the same as before, but our floorcraft might have been a little rusty.
We danced 3 rounds in the World Championship. I felt like our performance improved with each round and our last round was definitely the best.
To what do you attribute your success? Do you feel you had to modify your style in order to be competitive at the international level?
ALAN: Kelly and I figured out how we could practice almost every day.  We installed a wooden dance floor in our house when we bought it so that we would have a place to practice when we couldn't go to the studio, which was over an hour away.
To become competitive, I had to learn to dance much more precisely than when social dancing.  I also had to learn better body movement, posture, footwork, timing… essentially everything.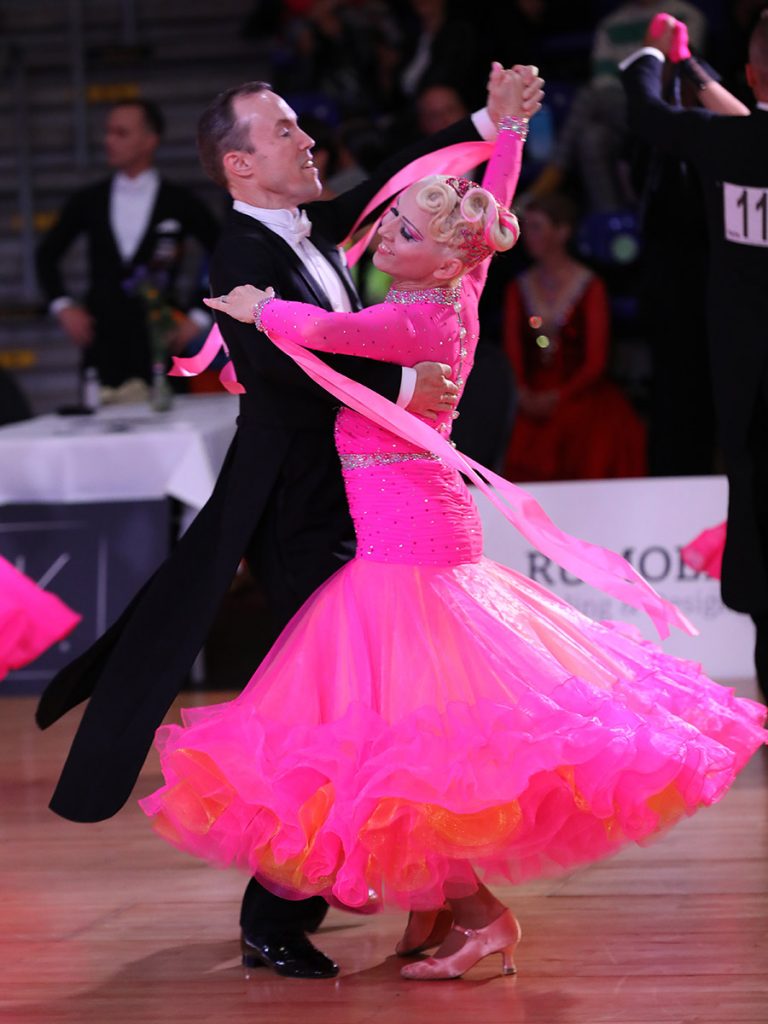 What needs to happen for USA World Teams to be more competitive at the World Championships?
ALAN: We need more competitors from the United States to regularly compete in Europe and around the world to increase the United States' presence in the dance world. We also need to dance on the same floor as the top couples during rounds or other competitions. More training from top coaches. More financial support for dancing and travel.
Arkady Dudko and Lena Bobroska
Tell us about your experience at your first World Championship.  What was that like?
ARKADY: The experience was a bit overwhelming. Seeing so many dancers from so many places in Europe in one place was like your first day in a University and you are just a freshman on your first day.
LENA : I was filled with mixed feelings and emotions – I was happy that I would be competing in this event, but concerned whether we would be able to dance at the adequate enough levels due to overall health conditions. Also I was very excited to recognize some top couples that I recognized from watching other WDSF competition videos.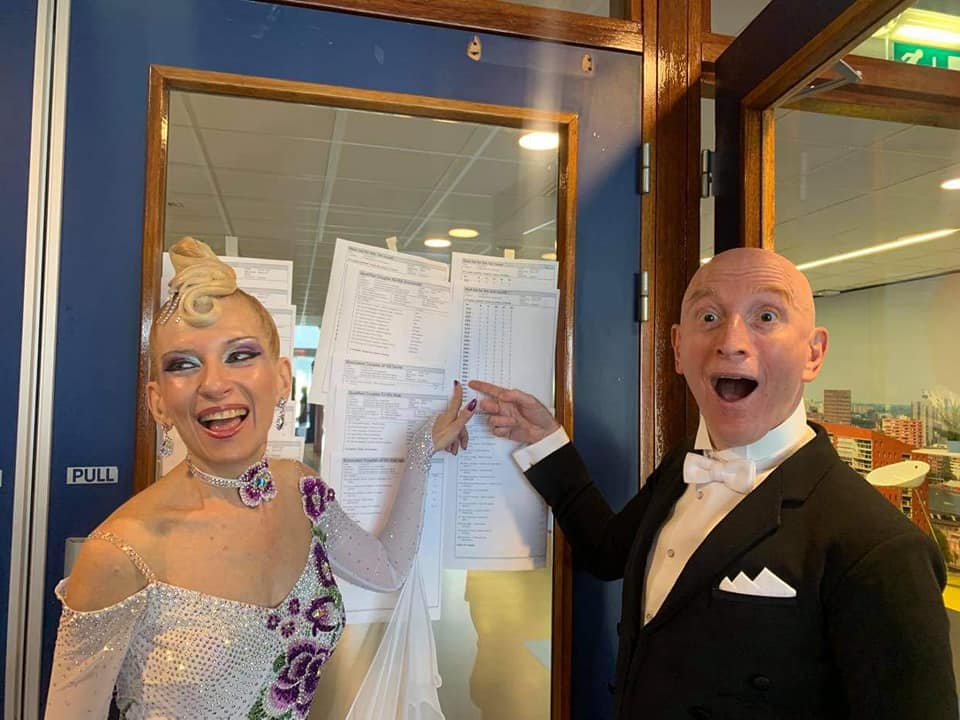 Arkady and Lena feel the joy of making it to another round!
Anything about the competition that stood out or is a lingering impression?
LENA & ARKADY: The whole event will be lingering in our memories for a while. One thing actually that was really outstanding was one Latin American showdance ( "the Neanderthals" ) performed by a couple that were dressed like "Cave people". The musicality, and creativity of the dance was so outstanding that it left quite an impression!
Were there any particular challenges getting to or from this World Championship?
LENA: Having a hair appointment at 6 am and trying to make it there early enough, and getting a taxi to get there half an hour early, and finding the place was still closed, and so being alone in a large parking lot by a huge Sports Center in the dark was a bit nerve-wrecking, but then people started showing up, and everything worked out.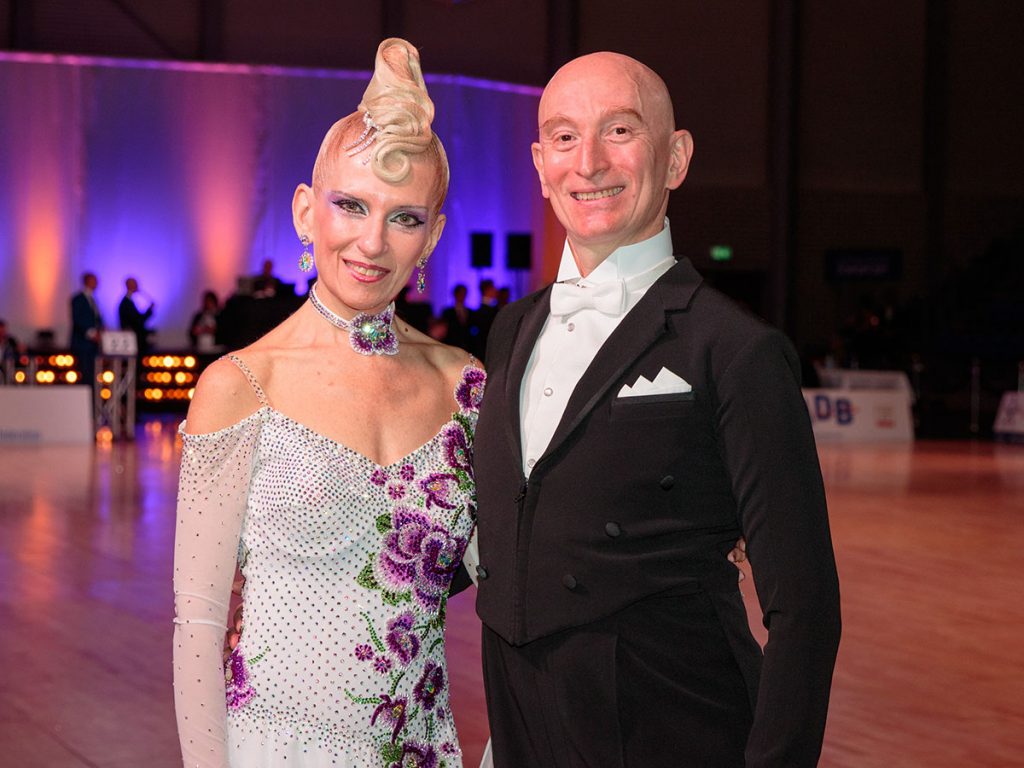 How did you prepare for this important event? Was it any different than how you normally prepare for a competition? Did you feel prepared (both mentally and physically)?
LENA: We actually prepared less for this competition than for many others due to ongoing health conditions, and that affected our performance. Dancing with a partner who was still recovering also held both of us back.
ARKADY: This was the first time we actually danced in a month since I was coming off my knee surgery.  My leg was still very stiff, and I was in considerable discomfort, so I was not sure if  I would be able to dance at all.
Anything unexpected or unusual either on or off the floor you would like to tell us about?
LENA: One thing that stuck in my mind was after one round (VW) Arkady was in a lot of visible discomfort, and a total stranger dancer came over being concerned if all was OK, and asking if we needed assistance. It showed good sportsmanship and camaraderie in the dance community regardless of nationality or language.
What distinguishes you together on the floor? What are your strengths and challenges as a couple on and off the floor?
LENA: We were always complimented on our frame, and our starting position. Our biggest challenge is to maintain that throughout the entire dance. We have strength in our connection as people, while at the same time our challenges are avoiding arguments and maintaining positive attitude throughout the whole round regardless of what happens during the dance.
What are the most important things you've learned from your partner?
ARKADY: Importance of music and musicality
LENA: Learning to follow no matter what happens.
Is there any advice you would give to future World Championship competitors? Anything in particular you learned?
ARKADY: Bring water, food, and be prepared to spend a long day at the event. These are very competitive events! The dancers are from countries where DanceSport is prevalent, and the fact that 112 couples came to compete even during a pandemic speaks for itself. Get good rest, and don't take this lightly.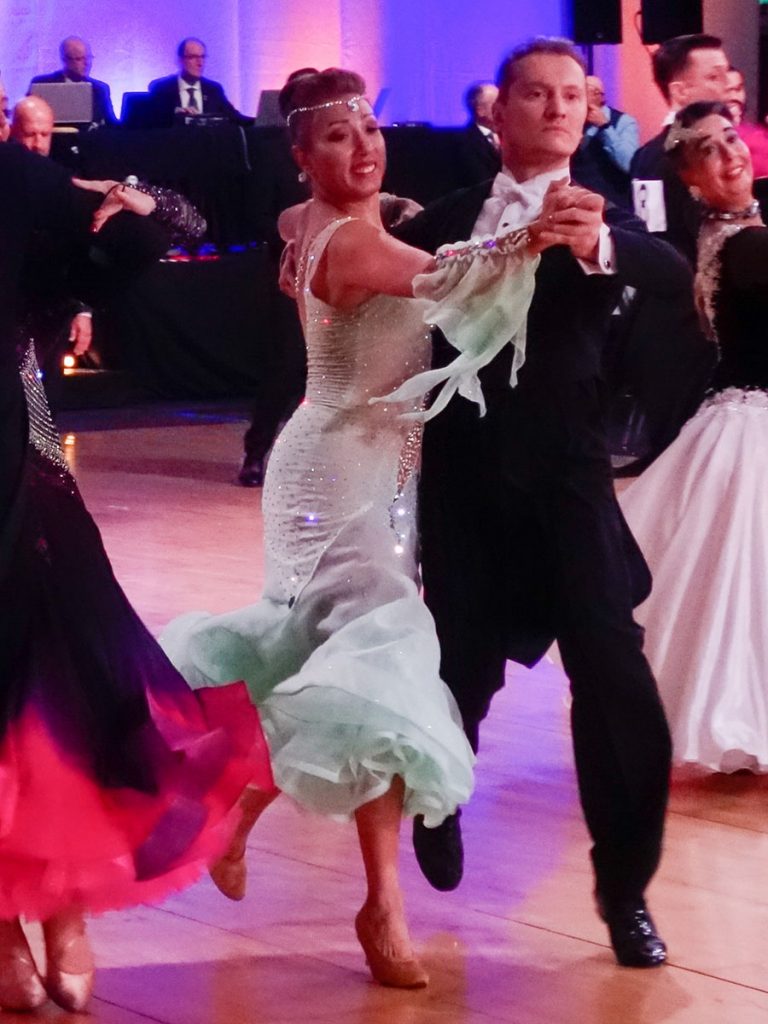 Denis Kojinov & Jeanette Chevalier
Like this page? Share it with your friends.