The first-ever Special Olympics DanceSport World Championships were held on August 20, 2021 in a Renaissance castle, high atop a mountain in the middle of the city of Graz, Austria.  The castle's casements had been converted into a beautiful open-air theater, with a sliding roof. It was a magnificent venue!
The competition began with an entry parade of 80 Special Athletes from 12 countries,  escorted by their partners and waving their countries' flags.   Seven other countries had planned to be represented, but couldn't because of Covid restrictions. After the Parade of Athletes, the five world-class judges were introduced and took their places at the stage-front table.
The Special Athletes performed first in the Solos Division, mostly folk dancing and belly dancing, followed by the Duos Division, where the two dancers have minimal physical connection.  Then came the Ballroom Couples Division.  The United States was represented by Debi and Simon Van Giessen from the Seattle, Washington area, dancing a smooth, elegant Waltz.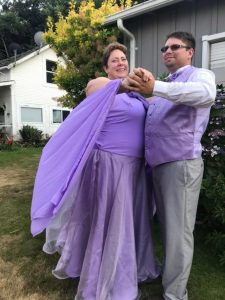 Debi and Simon Van Giessen
Photo by Shawn Van Giessen
Other Ballroom Couples performances included: Tango, Foxtrot, Swing. and Quickstep by couples from Austria; Tango and ChaCha from Germany; Rumba from Greece; ChaCha and Swing from Iceland; and Tango from Slovakia.  The last Division to compete was Teams, which included a three-couple Bachata formation; and a high-energy Greased Lightnin' number. ALL the dancers were amazing and inspiring … and having a lot of FUN!  Here is a highlights video:  
 A four-camera Austrian TV crew broadcast the event to 19,000 viewers, while 8,000 watched on Facebook Live.  The theater audience was standing-room-only at 800-900 spectators.  You can watch the full show on this Special Olympics Facebook link (you will need to be logged into Facebook in order to watch the video: 
https://fb.watch/80o9N9TerM/
The five judges were all famous international professionals:  Louie van Amstel (Dutch-American co-chair of USA Dance's Special Olympics DanceSport Committee); Danilo Campisi (Italian); Julie Fryer (British/Dutch); Paolo Boco (Italian); and Peter Maxwell (British). They gave encouraging comments to the Special Athletes and came up with the scores.
 Then Olympics-style podiums were set up on the stage, with 1st through 6th places for each Division. Austrian dancers won Solos, Duos, and Teams.  The Ballroom Couples A winner was  the Slovakian Pro-Am Tango couple.  The Ballroom Couples B had a tie, between the Tango/ChaCha couple from Germany, and the Iceland ChaCha/Swing Pro-Am same-sex couple.
I interviewed the USA dance couple, Debi Van Giessen and her son Simon, a Special dancer from the Seattle area.  Simon had been at the Special Olympics World Games in Abu Dhabi in 2019, where DanceSport was a demonstration sport, but his primary sport was Swimming.  Unfortunately, the Swimming and DanceSport competitions were held at the same time, so he didn't dance at Abu Dhabi… which made it even more special for him to represent the United States in this first-ever World DanceSport Championship!
Simon said "It was an incredible experience. Sooo much fun. Great to meet the dancers from other countries."   Debi added that they "learned to pay attention to the audience while performing our Waltz here at Graz.  We very much look forward to the next Special Olympics DanceSport competition."   Here is Debi & Simon's full Waltz:
 Dr. Pierre Gider was the organizer of this event. He is Coordinator for DanceSport for Special Olympics Austria and also Global advisor for DanceSport in Special Olympics International. He did a wonderful job of putting together the venue, the program, publicity, volunteers, judges, emcees, volunteers, lighting, sound, ticketing, and so much more.  It was first-class and world-class all the way. 
Later, I had a lengthy conversation with Louis van Amstel. He is co-chair of the USA Dance Special Olympics DanceSport Committee with Carol Davis from Fort Myers, Florida.  It will take much coordination and planning, but we are on the path to the next Special Olympics DanceSport World Championships, and USA Dance will be in the forefront.
Like this page? Share it with your friends.