Nothing beats being in the city where the waltz was born to hear a recording of Straus's Blue Danube Waltz being played.  This July, several USA Dance couples attended what might be the last Vienna Concourse held at the Wien Rathaus. Yusuf Mihaylov and Elena Simonova, along with Jon and Elaine Chow danced in the  Senior III Standard events on Friday and Saturday while David Getchell and Allison Gonzalez, along with Simon and Pu Fung danced in the Senior IV events on Saturday and Sunday. The competitor participation and the attendance this year were down, likely due to the pandemic with restrictions on travel and increased restrictions for the audience, but the level of dancing remained high, and the audience was enthusiastic as always.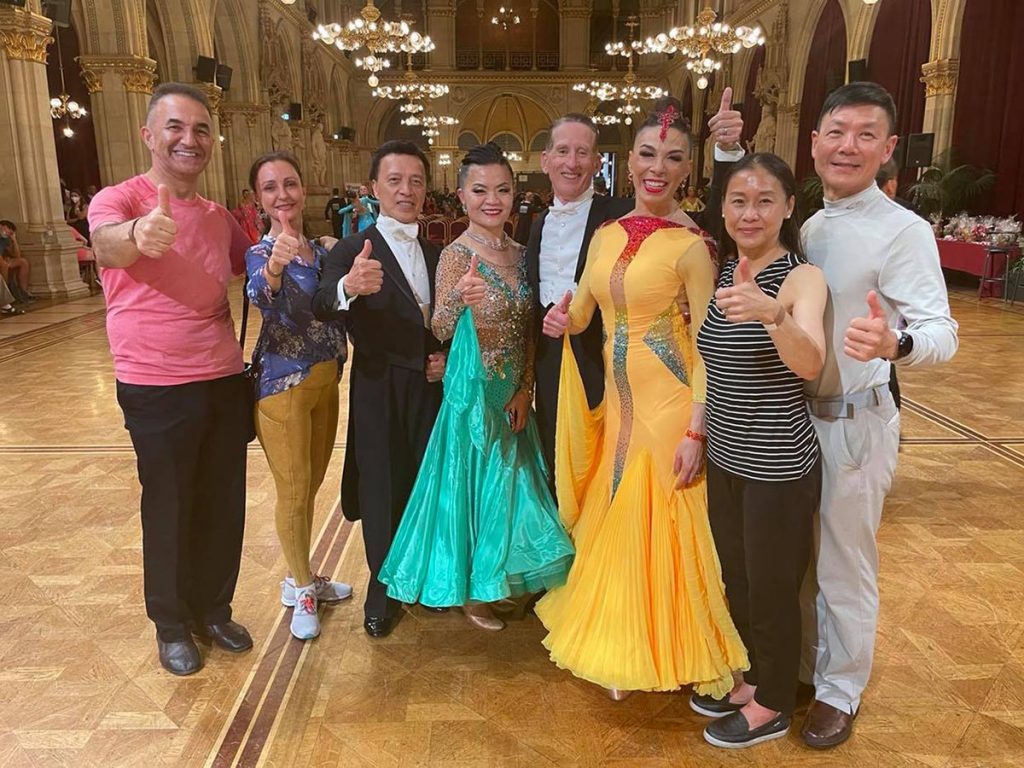 Yusuf Mihaylov, Elena Simonova, Simon and Pu Fung, David Getchell, Allison Gonzalez, Elaine and Jon Chow expressing their approval.
The 27th Vienna Dance Concourse was held after a number of postponements, all of which were well communicated to the registered participants. The safety of the competitors, organizers, and spectators were taken into consideration by enforcing documentation of vaccination or proof of negative COVID test along with recording information for the purposes of COVID tracking. Although masks were not required by those dancing, they were encouraged for all others. The event was very well organized with plenty of staff on hand to minimize lines for COVID checks and registration. The smart phone app Top Turnier myHeats was used to track heat lists which made keeping track of the randomized heats easy. Most of the heats were limited to 14 couples with semifinals run in two heats as is common with WDSF events. The couples were given a break in the finals by announcing countries and couples in between dances. All announcements were made in German and English and ample time was given between consecutive heats.
The Vienna Dance Concourse is one of a handful of international events that present identical events on two consecutive days. For example, a WDSF Senior III Standard event was held on both Friday and Saturday. This allows competitors to minimize their travel expenses while picking up the opportunity to earn two instances of WDSF ranking points. This event does a very good job using judges from many countries and drawing high quality athletes from around the world all of which works to maximize the number of ranking points one may earn. (See upcoming article in American Dancer explaining the ranking system and use of stars) Seventeen countries were represented by the judging panels and twenty nine countries were represented by athletes.
There was a wonderful sense of togetherness and support for each other at this years event as we were all so happy and grateful to be doing what we love again.  We sincerely hope the organizers are able to find the financial support they need to continue this wonderful event in the magical Wein Rathaus.
Team USA throwing it all away at the Schönbrunn Palace
Like this page? Share it with your friends.